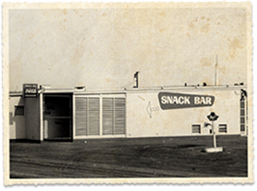 Few things say America more than apple pie, barbecues on the Fourth of July and drive-in movies. From humble beginnings in Depression-era New Jersey to the unprecedented national phenomenon that became a definitive icon of an entire generation, the drive-in theater brought together two of the greatest American passions: the automobile and the movies.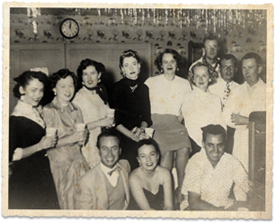 Auto parts salesman Richard Hollingshead opened the world's first Drive-in Theatre in Camden, New Jersey on June 6th, 1933. Its successful debut prompted others to follow, and by the mid 1950's drive-ins numbered well over 4,000, some of which held room for over three thousand cars. Home theatres, multiplexes and soaring real estate costs saw to the decline of the drive-in during the late 20th century. Now there just over 400 drive-ins in the country-a sad fraction of its former self.
Originally called "The Mission", for its location on Mission Blvd in the city of Montclair, CA, the Mission Tiki Theatre opened as a single screen drive-in in 1956. In 1975 the theatre expanded to four screens. Although Mission Tiki was never forced to close its doors like so many of its contemporaries, years of neglect did result in disrepair.
In 2006 we began to refurbish Mission Tiki, sparing no expense and leaving no detail untouched. We began by upgrading to the latest technology including FM transmitters so our audience could experience the sound through their own car stereo, and Technalight, a state of the art projection system offering the clearest and brightest images possible. The parking lot was repaved, the ticket booths were remodeled to look like tiki huts, a Maui statue garden was added and we remodeled the concession stand to resemble our tiki theme. The concession stand menu was also expanded featuring traditional theatre food, delicious pizza, burgers and great Mexican food!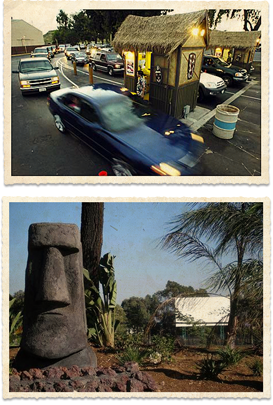 We have been hosting our famous swap meet since the 1960s. The Mission Tiki Swap Meet is now one of the foremost open-air markets in California. Each weekend vendors from across southern California gather to sell everything from wholesale goods to hand-me downs. Car shows, private events and annual festivals at the Mission Tiki have resulted in a growing swell of interest and a lot of smiling faces across the southland.
In a culture where family time has become so rare and the price of movie tickets are breaking the budget, the time is right once more for the drive-in to satisfy the national thirst for affordable, good, quality family entertainment. The drive-in theatre is no longer a forgotten relic, but an exiting living history and thanks to the Mission Tiki and the other theatres like it. The drive-on is one again poised to become the premiere American movie going experience.